Mario Correa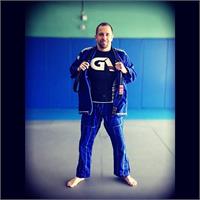 Professor Mario Correa was born in Rio de Janiero, the birthplace of Brazilian Jiu-Jitsu, Mario began his training under world-class competitors and instructors Roberto "Gordo" Correa and Vinicius "Draculino" Magalhaes. Soon after he began training with instructors from the famed Gracie Barra Academy and joined their main academy in 2002.
At Gracie Barra, Professor Marcio Feitosa and Master Carlos Gracie Jr. were responsible for awarding Mario his brown and black belts, respectively.
Mario's competitive accomplishments include winning the first Brazilian National Championships in 1993, a bronze medal in the 1999 Brazilian National Championships, a silver medal in the 2004 Brazilian National Championships and winning the BJJ Pan-Am Championships in 2008.
Professor Correa has committed his life to the advancement of the art and sport of Brazilian Jiu Jitsu.
Mario Correa is currently not instructing any classes.