Erica Walden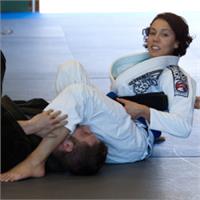 Erica Walden holds a blue belt in Brazilian Jiu Jitsu and is a NASM and Crossfit certified strength and conditioning trainer.
Erica has competed locally at Grapplers X, NAGA and Fight to Win Tournaments throughout her belts.
WHITE BELT
-Gold in NoGi December 2011
-Gold in NoGi February 2012
-Bronze in Gi February 2012
-Gold in Gi April 2012
-Silver in NoGi August 2012
-Silver in Gi August 2012
-Gold in No Gi May 2013 State Championships
-Gold in Gi May 2013 State Championships
BLUE BELT
-Gold in Gi November 2013 Nationals
"The principles of jiu jitsu apply to every area of life. The critical thinking and physical skills one must develop in order to master the art of jiu jitsu are essential to combating the ever-present road blocks in life. A personal challenge can be an internal or social fear, a passionless job, or physical – like the pain of being overweight. Whatever the obstacle, jiu jitsu demands full present-moment awareness, which is the most transformational concept I've applied to my life to date. This reprogramming has allowed me to have a whole new outlook on life and the things I desire to accomplish. My quest is to spread the knowledge I have found to help transform the lives of many from the foundation up. To know the power of what we eat, what we think, and what we practice… that is my mission to share with the world.
Erica Walden instructs the following:
Program introduces kids ages 7-13 to the self defense and sport concepts of BJJ. Great for fitness too, Coaches use BJJ related exercises and drills for cardio conditioning. Kid's will spar from positions as well as from the feet to understand all components of BJJ.




RFLX Lion Cub's BJJ Program teaches kids the rules of BJJ with Mat Chats and the basic Jiu Jitsu motions through games and drills. Fun, safe and effective introduction to martial arts.