Ryan S. Walden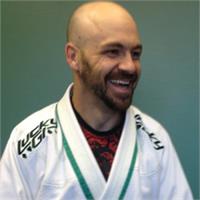 Professor Ryan Walden started doing Brazilian Jiu Jitsu in 2004. His pursuit began at CBJJ a Rigan Machado School.
He began competing and earned numerous medals. He earned his blue and purple belt rank under CBJJ. Ryan then studied under Professor Jorge "Van Damme" Oliveira and Professor Carlos "Sapão" Ban, a 3rd degree black belt under Ralph Gracie. He received his brown belt from 7x World Champion Robson "Robinho" Moura. Robson is one of the most decorated BJJ cometitors of all time. As a brown belt Ryan began refining his teaching abilities and focusing on developing Kids BJJ Programs. After almost a decade of dedication to Jiu Jitsu he earned the rank of Black Belt under Professor Mario Correa. Professor Busy Continues to mentor Ryan at RFLX TC.
Ryan S. Walden instructs the following:
Level 3

For approved students

These Int/Adv classes will break down movements in a series, building upon the basic curriculum in much greater detail as well as adding new BJJ moves and discussing BJJ theory.




This is an advanced class supporting upper belts on their journey to black belt with concepts, themes, and advanced techniques critical to well rounded development. This class is for those serious about advancing their Jiu Jitsu game.




Level 2

For approved students

Required for competitors- drills and competition training




Teens/Advanced BJJ class is a core curriculum for adolescents ages 13-16 (>13 with Professor approval). Fun way to learn the advanced techniques of Brazilian Jiu Jitsu with peers your age.